These products will not only make your baby happy but it will also make your day so much easier.
1.
A waterfall rinser that will make it at least a little easier for you to wash your baby's hair without getting any water or soap in their eyes.

2.
A Boppy nursing pillow because it lifts babies up to a more ergonomic and comfortable position (for you!), whether you're breast or bottle feeding.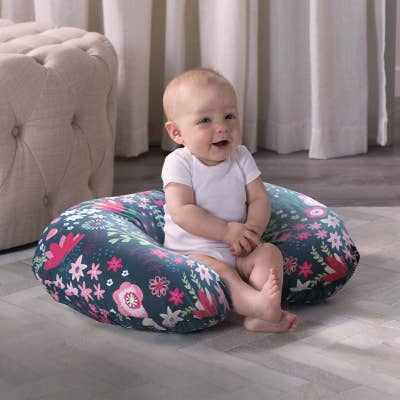 3.
A Pack 'n' Play that converts from a bassinet to a safe play yard *and* collapses into an easy-to-carry bag. That means you can take it basically anywhere and know your baby has a cozy place to relax and sleep.

4.
A silicone plate — it sticks and stays in place on the high chair or table, so your kiddo can't ~accidentally~ tip it over on the floor.

5.
A video baby monitor system so you can leave the room and have plenty of peace of mind. Between the temperature sensor, the camera (that pans and zooms and tilts), and the auto infrared night vision, you'll always know that everything's okay.

6.
Or the Owlet Smart Sock monitor, which tracks your baby's heart rate and oxygen levels as they doze, and notifies you on your phone if anything seems to be amiss.

7.
A heavy duty stroller hook so you can quickly attach your purse, shopping bags, and diaper bag directly to your stroller's handle, leaving your hands completely free.

8.
A manual breast pump to keep as backup just in case you forget your electric pump, or need to collect some extra milk after a breastfeeding session.

9.
A lightweight, compact portable changing pad that has a comfy bit of cushion and, perhaps most importantly, is easy to clean off with a quick wipe-down.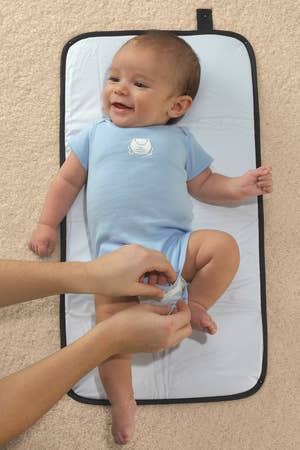 10.
Or the Skidaddle Diaper Changing Station, which can replace your diaper bag entirely for shorter ventures out of the house, because it folds up on itself and includes several pockets for diapers, wipes, and a few extras.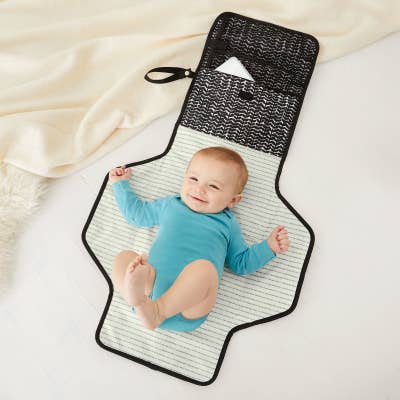 11.
The Cozy Cover because it will keep your baby toasty warm in their carseat and carrier even through the chilliest months of winter — all without making it difficult to get them safely strapped in.

12.
The NoseFrida Snot Sucker, a non-invasive (and dishwasher safe!) nasal aspirator designed with a tube that goes against your baby's nostril instead of inside of it, which besides being more comfortable for your baby, also won't harm anything in their inner nose. Oh, and it instantly relieves any stuffiness so you can both enjoy some peace.

13.
The cotton Halo Sleep Sack Swaddle, which, thanks to its Velcro sides, takes only three simple steps to put on your baby and can adjust to hold both their arms in, one arm in, or let both of their arms free.

14.
And the sleeveless version that you'll pull out once they've outgrown the first one, and they learn to roll over and crawl.

15.
Some breathable, hypoallergenic, fragrance free–diapersthat feel like soft fabric inside and out but can magically absorb over 50 times their weight in fluid.

16.
The Hatch Rest Night Light and Sound Machine because it not only provides a gentle, controllable light for midnight feedings, but also connects to your phone so you can play soft music without being in the room.

17.
An ear thermometer so you can know whether or not they have a fever in just a few short seconds — and so they stay completely relaxed and comfortable the entire time.

18.
A banana toothbrush teether — its textured tip will give your babys gums some sweet relief and its small size will be extra easy for them to hold.

19.
A silicone baby food dispensing–spoon that keeps the feeding mess to a minimum because it makes it simple to get those perfectly sized bites.

20.
The Munchkin Bottle Brush, which is designed with a suction cup base for easy drying, a flexible neck to help you reach every nook and cranny of different bottles, and a soft rubber nipple brush that stores right in the handle.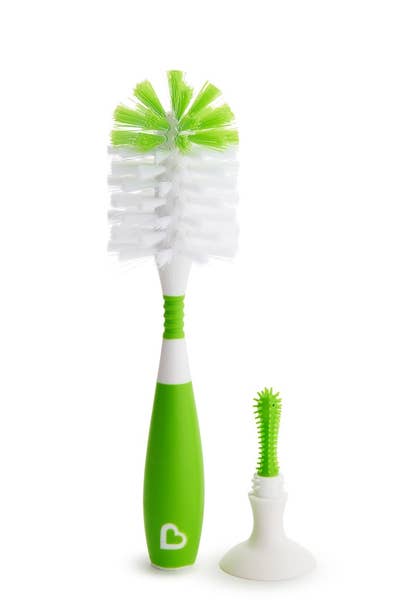 21.
An adjustable silicone tether for sippy cups and toys so you don't have to play the "the drop" game at the grocery store, in the stroller, or in the high chair.

22.
A stretchy multi-use wrap — you can use it to cover your babys carrier or carseat while they nap, slip it on while you nurse, and (once they're sitting up more normally), pull it over the grocery store cart seat so they sit more comfortably.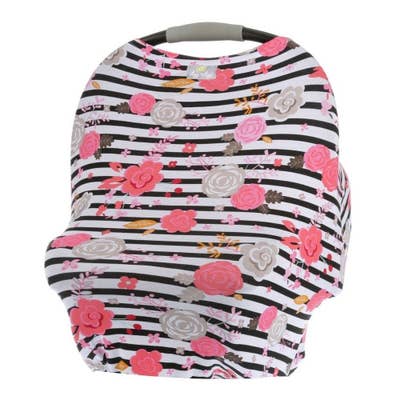 23.
A wrap-style carrier that easily slips on in several different configurations and doesn't require any actual skillful wrapping to use, so you can give them all the cuddly contact they need without completely exhausting yourself in the process.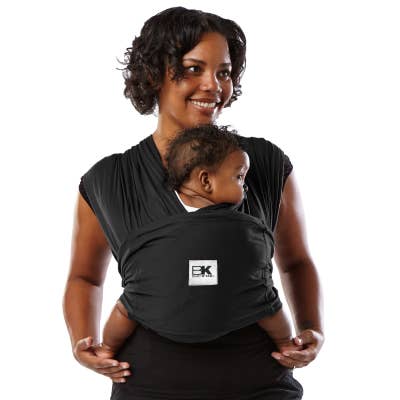 24.
A pack of three changing pad covers because they'll be much lower effort to wash, even if your changing pad wipes down or has a removable, washable cover.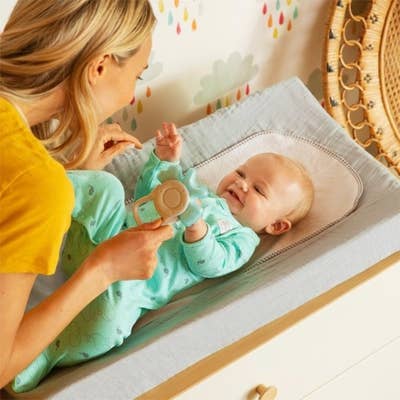 25.
A Halo Glide bassinet so you and your baby can safely sleep side by side in bed and always see each other through the mesh. And when you need to reach for your little one, the side wall retracts with just the pressure of your forearms, then automatically returns.

26.
A Soothie pacifier with a detachable, cuddly stuffed animal because it's surprising how quickly pacifiers will vanish into thin air when they're not deliberately tied to something bigger.

27.
And a pacifier clip so when you're taking a walk in the park and your baby decides to throw it at a passing pigeon, it stays firmly attached to their clothes.

28.
A cozy daytime swing that features six speeds of side-to-side swaying and 15 songs and sounds to help them relax while you take a moment to do something like, idk, eat some lunch.